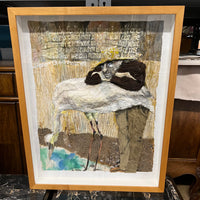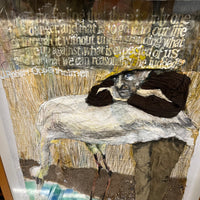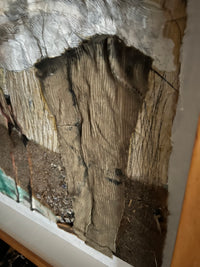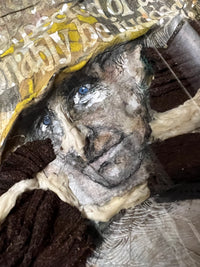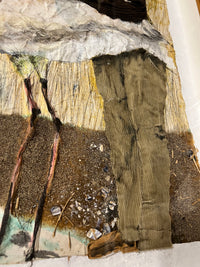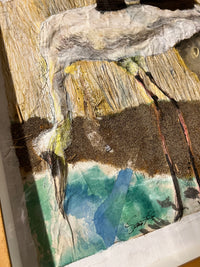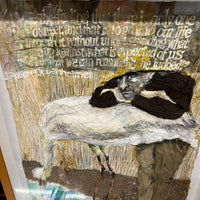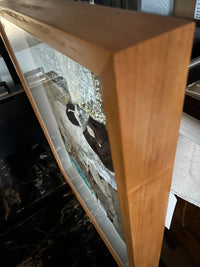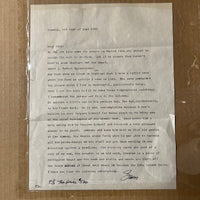 Painting of J Robert Oppenheimer with Mixed Media by Sam Fink
Regular Price

$2,950.00

Sale Price

$2,950.00

Regular Price

Unit Price

per
This stunning and unique mixed media, three dimensional artwork by Sam Fink is a biographical painting.  Sam created several of these biographical works.  They feature the subject; in this case J. Robert Oppenheimer and a quote that is attributed to him.  This one piece in particular is interesting because Sam Fink typed a note to the buyer of the work - explaining how this particular piece came about (ad they buyer affixed that letter to the back of the piece.  It is housed in a thick wood frame.
The attention to detail on the piece is extraordinary.  He features Oppenheimer in his signature porkpie hat, wearing corduroy slacks and a brown sweater.  The quote reads, " I have the feeling that there is only one true danger, and that is to go into our life or through it without understanding what we are up against, what is expected of us and by what we can be reasonably judged."
29 3/8 H x 23 1/2" W x 3" D
We have several of these biographical pieces by Sam Fink.  
Sam Fink was an artist, a calligrapher and an illustrator.  He was an artist of inimitable range.  He learned to hand-letter from his father. He also studied at the National Academy and the Art Students' League. For decades, he worked as an art director at  Young & Rubicam and later, he taught at the Pratt Institute.  For more than 20 years, Fink educated and entertained adults and children with his illustrated texts of American history. He celebrated his 90th birthday in 2006 with the release of The Constitution of the United States of America which had won a Gold IPPY. He also published The Declaration of Independence: The Words that Made America.  Sam died in 2011 at the age of 95.
Enter the content to use inside the accordion panel selected.